Mary-Jo Allen's Report
My heart is filled with awe, amazement and gratitude to God for having had the opportunity to take the trip of a lifetime to Deutschland!
Having spent the first nine days of our trip around the city of Bamberg, where we met my husband's cousins, we headed on the autobahn towards Mecklenburg.
Excitement was building as we travelled north towards Neustrelitz, a town of about 20,000. We had made reservations to stay two nights at the Hotel SchloßGarten, which we would highly recommend to anyone. I was in search of information about my great grandmother's family and wanted to see the places where she had grown up. Her name was Friedericke Schnell and she was born in 1828 in the small village of Starsow, south of Neustrelitz. Her father and many generations before were born in Groß Quassow. Prior to our trip I had some records dating back to my 3X great grandfather, Schnell.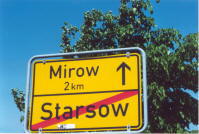 Royal Schnell, from Tenesee, whom I got in contact with through the Internet, put me in contact with a Schnell family who was currently living in Neustrelitz. Although at this time I have no documentation that I am related to Royal or the Schnell family in Neustrelitz, the family there treated us royally! The whole family took a day off from work and school to drive us around to visit all the places I wanted to see. They took us to Groß Quassow, Klein Trebbow, Starsow and Mirow (picture: road sign leaving Starsow driving toward Mirow).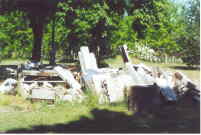 Our visits to the villages of Starsow and Groß Quassow were brief as neither had populations much over 100. I took a few photos and we searched the cemeteries, but found no gravestones of my ancestors. In Germany, if after twelve years no one continues to pay for the grave anymore, the stones are removed and piled in a far corner of the cemetery! It was sad to see the pile of old gravestones and wonder whether any of my ancestors' stones were among them (picture: abandoned gravestones in a cemetary in Starsow, Mecklenburg, Germany).
Our next stop was in Mirow. Here I was able to go inside the very church where my great grandmother had been baptized and confirmed! What an awesome feeling came over me as I stood in that beautiful church in front of the baptismal font and realized that it was the very one used for my great grandmother's baptism in 1828. I took many photos both in and around the church and also was able to bring back a small piece of red brick that once was a part of the original church. Of course my husband tells people jokingly that he saw me with a pick and hammer trying to get that piece of brick! I left there feeling a real connection to my past!
Across the street from the church in Mirow is a Tourist Bureau. The director invited us to her office once she found out I was from America and interested in my ancestors' history. There were many old books and documents here and we were very excited to find documents that my great grandparents had both signed in 1848, declaring that they were against the Duke's system of government. It was highly unusual at that time for women to sign such a document and it seems my great grandmother was only one of many women who signed this petition.
It was a most memorable day and driving along the narrow roads, lined with beautiful trees on both sides, made a lasting impression on our minds. We really were travelling along the same paths as my ancestors had. The winding roads were paved over the very pathways that my great grandmother's family had traveled, with their horses and wagons, back in the early 1800's.
We left the next day for Lübeck, which was a three hour drive on the Autobahn. By this time my husband was comfortable driving on the Autobahn and it was a much more pleasant experience for him than he thought it would be. Even though drivers go faster there than in America they seem to be more skilled and courteous, as long as you stay out of their passing lane, you will be fine. We would not hesititate to travel on the Autobahn again.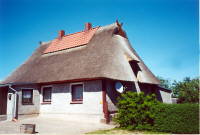 We enjoyed a quiet first night in Lübeck and were eagerly awaiting the arrival the next morning, from Hamburg, of our friend and translator. I cannot tell you enough how fortunate I was in making contact with this person three years ago (picture: a typical village house in Schaddingsdorf, Mecklenburg).
I wrote to everyone in Germany with the name of Rieckhoff who had an e-mail address. One man responded (among others) that he would give my inquiry to his brother who was into researching their own family. Bingo! This young man wrote me two months later for the first time. Never could I have imagined what he would do for me in my family search over the next 2 1/2 years! And...no fee! To shorten the story a little, he was able to find living cousins of mine in the spring of 1999, living in Lübeck and parts of western Mecklenburg. When my search began I only knew that my great grandparents had come to America from somewhere in Mecklenburg before 1853, no village, no records, only one page in a family records book that recorded the birth of their first child in New York City in 1853!
The next thing I knew I had been corresponding with my third cousin in Lübeck since last May and we were planning our trip to Germany. My "friend" from Hamburg next offered to take a week's vacation and join us in Mecklenburg and act as our guide and interpreter! Unbelievable, yes, but true!
What a memorable week we had! Our first full day was spent visiting my cousin, who is 86 years old and his lovely wife, in their two room flat. They served us a delicious lunch, and of course, at 4 p.m., Kaffee and Kuchen! After getting acquainted and sharing stories we returned to our hotel room for a relaxing evening.
The next day we drove to the village of Groß Rünz where my great grandfather, Hans Joachim Rieckhoff, had been born in 1826. It was a very warm 85 degree day (unusual for Germany in May) but we enjoyed walking through the village together and standing, "in the shadows" (an English term the Germans use for "shade"), under the giant Linden trees that once stood so majestically in front of the former Schulzen Rieckhoff Bauernhaus! A bit down the road from there was the village pond and we sat and watched some children swimming and having fun, much like my ancestors did many years before! As I sat there I could almost see my great grandfather and his brothers and sisters having fun splashing in that very place!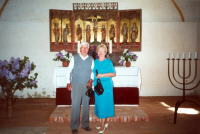 After a nice lunch (Mittagessen), we drove to Demern to the Evangelical Lutheran Church where my great grandfather and his family had worshipped. My great grandfather was baptized, confirmed, and married in this church just six days before he took his young bride and sailed for America (picture: third cousins (Hans Rieckhoff, Germany and Mary-Jo Allen, WI), our great grandfathers were brothers in Groß Rünz, Mecklenburg in the early 1800's)!
This church had been renovated between 1990-99 and was beautiful! Can you believe that only one service is held in this church each month and we were fortunate to have been there on the right Sunday! We were able to go inside before the 2 p.m. worship service began and took many photos. To have stood in front of the altar where my great grandparents had been married was a very emotional experience for me and one I shall never forget!
During the worship service a baptism was held. The original baptismal font was out for restoration, but the original bowl from the font was used in this service. I feel I can really say that I worshipped in the same church as my great grandfather had, because one of the hymns sung that day was written in both Deutsch and English! I very quietly sang in English while the rest of the congregations, of about 30, sang in Deutsch! Tears were beginning to well up in my eyes!
After the service we walked through the church cemetery where many of my ancestors were buried. There are no stones marking their graves and no records were kept back then, but I was told they were definitely buried there.
Next stop was at cousin Magda's home in the small village of Schaddingsdorf for Kaffee and Kuchen! Following our 4 p.m. "snack" we hiked to the edge of the village and climbed up a steep hill to view the countryside. From the top we could see in the distance both the city of Lübeck and the village of Groß Rünz! It was an amazing sight!
During the rest of our week we visited many historic sites, including many beautiful old churches, met and visited many new friends and relatives, many who had lived for years in the DDR zone, researched records in Mirow, Ratzeburg and Schwerin, and enjoyed a drive to the Ostsee (Baltic Sea) complete with a picnic on the beach!
I celebrated my 65th birthday with 16 "new" friends and relatives. We enjoyed dinner at a restaurant in Lübeck overlooking the Wakenitz Canal. One very special gift was a model in a bottle of the sailing ship, the "Deutschland". This was the vessel my great grandparents had sailed to America on!
In closing let me tell you that on our last evening, we were driven to visit the most wonderful sight of all and where I left a part of my heart! It was the promontory point from where we could witness what was the last view my great grandparents had of Hamburg, when they left from this port for America in August 1852. There was no sunset that evening, but never-the-less it was an experience and feeling that I will never forget! As I stood in silence on that high point, and viewed the sea and land below, my heart was throbbing!
Yes, I left a part of me in Germany, but if it is in God's plans I shall return again!
Mary-Jo Allen
June 2, 2000